Introduction
Lotus Logic is an IT consulting firm implementing, customizing and supporting enterprise software at major corporations like Diageo in the US, the consumer brands owner of Guinness, Smirnoff and Johnnie Walker worldwide. Lotus was looking for a tool that was flexible enough to match their clients' needs surrounding the collection of time and expenses, and in how and when clients are billed. They were previously managing timesheets by create forms in excel, and loading these to a back-office solution they had created.
Challenges
Because of the flexibility they required, Lotus felt stuck with their current, manual solution. Their clients wanted to be billed as frequently as possible to help with budgeting, often meaning Lotus needed to send an invoice twice a month. With multiple projects and purchase order budgets to track, it was critical to satisfying customers like Diageo to be able to easily and accurately meet these requirements. In addition, with anywhere from 10 to 20 consultants at a client's site at a given time, and every consultant having their own PO number, it was necessary to treat each consultant like its own project and incorporate this number into the invoice. After an intensive search, Lotus found many products didn't have flexible billing or time entry, as they required manual input of the PO number on each invoice. "If you're moving over to a new application but still doing 50-70% manual work, then why move on to that application?" said Sandy Magon, a Client Development Manager for Lotus Logic who was leading the search for a new solution.
Solution
When Sandy came across iBE.net, he began with a free trial and immediately liked what he saw. "iBE.net allowed us to shape and customize the tool towards our clients' expectations, which made it a lot easier for us than having to change to way we and our clients do business", says Sandy. "We found that the other tools out there were robust in certain ways, and had many users, but all these users had to use the product in a single, particular way that didn't necessarily fit our business. I was looking for was I thought were basic requirements, but what I realized what that these basic requirements were just not being met in most cases". Sandy explains further "From the beginning, iBE.net was willing to work with us and customize their tool to our needs". Sandy and Lotus felt that iBE.net was a solution that they could grow with, and that iBE.net would continue to adapt to their needs. "iBE.net was a vendor we could build a trusting relationship with", adds Sandy.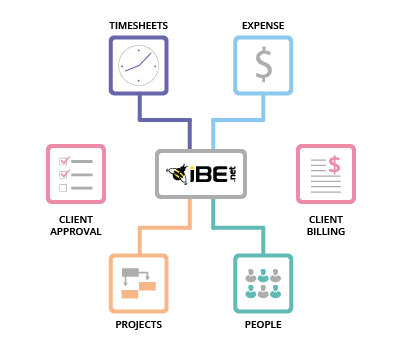 Benefits
Lotus was able to quickly implement the iBE.net system within a few days and now iBE.net manages their time, expenses, client approvals and client billing, as well as keeping track of purchase orders and client budgets. "Having customer support from iBE.net made all the difference, it almost felt like we had another Lotus Logic employee in iBE.net because they catered so much to us", says Sandy. "They were a point of contact for every employee". Lotus is finally free of their manual process with a solution that gives them the flexibility to run their business how they want. Each consultant's PO number is stored on the project and automatically transferred to the appropriate invoice, reducing the PO fund or budget available according to the amounts billed. "I think one of the biggest selling points is that any consulting company using a mix of contractors and employees needs the flexibility to set up a system in particular ways, and especially needs to be able to match it up to their customers' needs" says Sandy. "The way iBE.net is providing support is really unparalleled in the industry". After successfully using the system, Sandy concludes "I would absolutely recommend iBE.net, because of their customer service and because the application itself is growing and adapting to specific requirements of all kinds of consulting firms".