Introduction
Micon International Limited provides consulting services to the international mining industry since 1988, with particular focus upon mineral resource estimation, metallurgical services, mine design and production scheduling, preparation of pre-feasibility and feasibility studies, independent reviews of mining and mineral properties, independent engineer services, economic analysis and litigation support. MICON has 30+ consultants working on projects all over the world out of offices in Toronto and Vancouver (Canada), and in Norwich and Cornwall (UK).
Challenges
With consultants spread out across mining sites throughout the world, MICON found it hard to keep track of what everyone was doing. Billing clients was an exercise in chasing timesheets and expense reports through phone calls and emails, and hoping that everything was collected and approved in time. Mistakes were made and invoices took longer to generate than they needed to. MICON's management had little visibility into the status of all their projects and for fixed price engagements into how much projects were costing as compared to the revenue generated. They also found it difficult to bill for software hours and calculate sales taxes across so many countries (Canada, US, UK, Russia, Turkey, Spain, Kazakhstan, Mexico, South America & Vietnam) because tax rates in Quickbooks had to be entered manually. MICON conducted an extensive search led by Chris Jacobs, VP CEng MIMMM, but none of the systems they looked at provided the breadth of support across different countries, currencies and business processes including HR, time, expenses, project management and billing. Most of the systems excelled at one small piece, such as timesheets or expenses, but did not meet their requirements in other areas despite claiming to do so.
Solution
iBE.net was the only vendor to provide end to end functionality and integration to MICON's Quickbooks accounting package to fit MICON's budget. "iBE.net immediately stood out as a well thought out system with the needs of a small but international consulting firm in mind", says Chris Jacobs. "Their processes and workflows out of the box closely matched our requirements and what they did not do out the box (such as Russian holiday calendar or tax rates) they quickly customized for us.". Chris added "iBE.net went out of their way to help our admin staff in Canada and the UK, including making requested enhancements to the software such as over-ruling the currency conversion from incurred expense currency to company currency when the customer's billing currency happens to match the incurred expense, because it is all one country". MICON now uses iBE.net to manage all their employees and contractors world-wide, collect and approve time and expenses, track project profitability and software hours usage, and combine all this information to quickly and accurate generate a range of fixed or time and materials based invoices from Canada and the UK.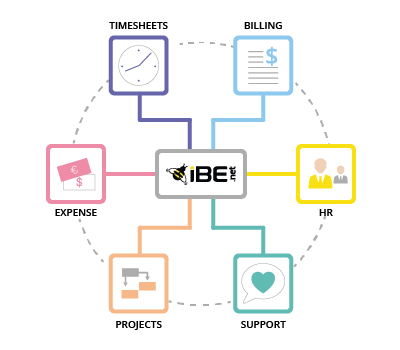 Benefits
MICON's time to invoice has been reduced by 50% and invoices which used to take 1-2 weeks can now be done in 1-2 days. Furthermore the extensive reporting available in iBE.net allows MICON's billing team to quickly chase up missing time, spot missing rates or time or expenses which are inaccurately billed and create client invoices. For the first time MICON is getting real-time visibility into project status world-wide and into the planned vs. actual efforts, costs and revenues of each client project. This information is invaluable as MICON continues to grow and expand its business globally.