Introduction
Vikalp Solutions is a 40+ person consulting firm with a worldwide presence, managed by Vaibhav Gupta. Vaibhav manages projects the firm does for various clients, and needed to ensure proper task management so that their consultants knew what they were responsible for delivering. Vaibhav is also responsible for billing and needs to collect accurate time and expense information from employees and bill it properly and on time to Vikalp's clients. It's a lot to handle, but it's all in a day's work for a manager of a typical small consulting firm.
Challenges
In the past, Vaibhav and his team used a range of tools from project management and collaboration tools to spreadsheets and emails. Managers frequently had to hunt through information in silos or on disparate databases to understand the status of projects and manage his human resources. "We had a lot of issues tracking billable hours and generating accurate invoices, which sometimes resulted in a loss of revenue for the company", adds Vaibhav.
"We were using a lot of open source systems and project management tools before iBE.net", says Vaibhav, "but the problem was having project management in one system, time and expense in another and customer invoices in a third. The data integration wasn't very good, if it existed at all. On top of that it was costing us too much to use all these different applications".
Solution
Vaibhav started out with iBE.net to organize its workforce and run the business. When he subscribed to iBE.net, he indicated that his company was an IT professional services consulting firm, and this triggered the software to deliver project management templates for common IT project methodologies such as agile development, ITIL and PRINCE2. iBE.net came pre-configured with templates based on IT best practices, including workflows for developing proposals, bids and contracts to help standardize the way the firm works. "We like the fact that iBE.net is highly customized for our kind of industry", says Vaibhav. "With iBE.net we get one application covering employees, contractors, timesheets, expenses, billing, project management, task management, support ticket management and more". Vikalp more recently started using iBE.net's time-off and CRM modules.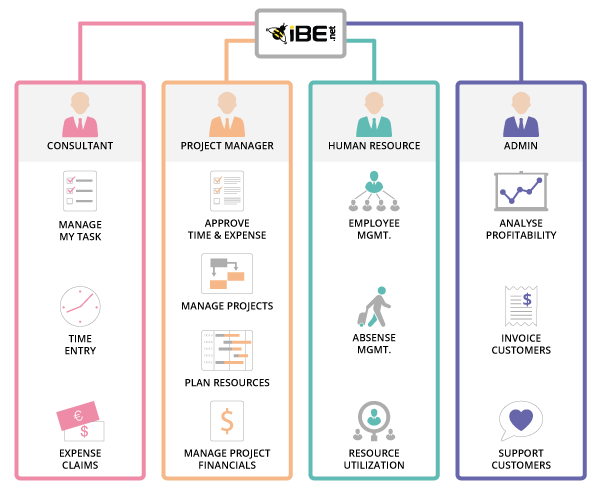 Benefits
iBE.net's templates, along with it being a single database or source for all Vikalp's data, have greatly simplified the way Vaibhav manages his company. "There are many ways we found iBE.net to be in tune with our industry", says Vaibhav, "specifically the product and workflow templates, the billing; we would use them all straight out of the box with minimal customization".
Vaibhav says that his billing issues have been resolved, and he is confident that all his consultants' time and expenses generate the client bills. "It also converts invoices into different currencies, which is important because we have customers worldwide. What used to take me three or four days to generate and reconcile invoices now just takes three to four hours". Vaibhav uses the iBE.net mobile app when he is out of the office to approve employees' time and expense and to initiate or monitor tasks that different people are working on. He says that other small IT or professional services firms would benefit from the integrated end-to-end business processes built into the software.